Invoice and Receipt Books
Looking for a branded invoice & receipt books? Leaderpress can help. Click here or below to request a quote or here or below for a print specialist to contact you.
Invoice and Receipt books or NCR (no carbon required) books. They are an ideally way to keep track of your everyday business requirements and documentation. These books allows for  businesses to have multiply hard copies on record from one single sheet press. The pressure from the pen pushing through allows for a exact copy. Multiply sheet duplicate, triplicates and more can be used.  These permanent record are a functional, safer, secure and cost effective way to manage your business documentation when compared to online business software.
As Perth's leading supplier of invoice and receipt books to the WA market. Our print specialist can come up with a solution, that represent your brand and required functionality.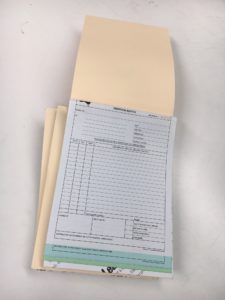 A4 Triplicate NCR book in 50's. Printed black one side with soft manilla cover from head and writing plate from foot. Numbered and Perforated.